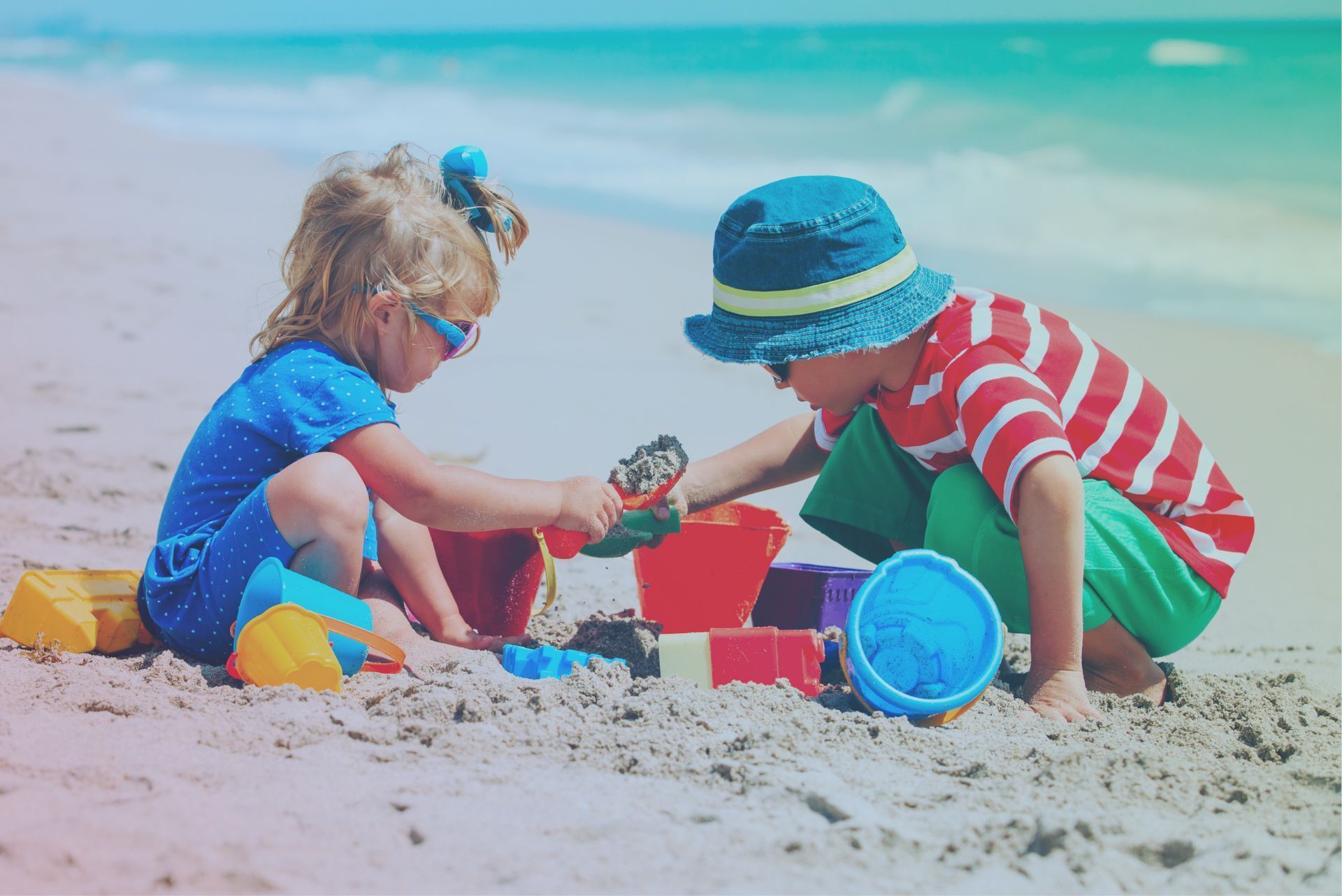 Many families look forward to summer during the entire school year, only to find that managing everyone's schedules and spending time together can be more complicated than keeping up with school work! The good news is that there are many ways to be positive parents during the summer that meet our children's needs.
---
Dear CPI,
My family's life is hectic during the school year, but summer break is also hard, in a different way. I'm a single parent and work full time, so my kids (5 and 9) have to be in camps or child care every day. I wish I could spend more time with them during their summer break, but I just got a new job and can't request time off yet. Sometimes our schedules feel just as hectic and tiring as during the school year. What tips do you have for getting through the summer and having fun?
- Melanie
Dear Melanie,
Many parents have the same dilemma – kids get a welcome break from the school schedule, but parents still have to work every day! It sounds like you already know the importance of arranging safe, interesting, engaging places for your children to be while you're at work, which is a great starting point. Here are a few other tips to try:
Focus on simple ways to connect every day. For many families, summer means a break from the hectic routine of school, homework, sports, or other afterschool activities. This often creates more free time in the evening or on weekends, or can make it easier for some children to have later bedtimes. Use these opportunities to spend quality time together and add variety to your daily routines. The simplest ideas are often the best, like having a "picnic" on the floor or outdoors instead of eating at the table, or going on walks or playing games after dinner instead of watching TV.
Plan family outings, even if they are just for a few hours or in your home town. Build a wish list with your kids and encourage them to be creative about where and how you can explore something new together. Again, simple and inexpensive activities are often the ones that create happy memories that last a lifetime. Visit a local museum, go to a park or beach you've never been to, attend free outdoor concerts or movies, try a new ice cream or frozen yogurt shop, orvisit the library or local bookstore. The possibilities for creating happy memories whil strengthening your relationships with your children are endless.
Encourage your children to develop new skills and interests. Talk to your children about what they're interested in learning or trying, then find activities in the community or things you could do at home. Keep it simple enough that it's fun for your children and realistic for you. Even teaching your children to make something besides cereal for breakfast can be a positive learning experience and provide them with lifelong skills.
Maintain a routine. Although summertime routines are often more flexible, maintaining some consistency will make life more predictable and easier, especially with work, camp, and child care schedules. It can also help your children get enough sleep and good nutrition, teach your children about time, or give them something to look forward to – e.g., go to the library every Thursday or call a relative every Sunday. It will also help everyone ease back into the school routine once summer is over.
Final Thoughts: Just remember it doesn't have to be complicated or cost anything to be effective– keep it small and simple!
---
EN ESPANOL
---
CIdeas sencillas para el verano
¡Muchas familias esperan con ansias el verano durante todo el año escolar, solo para descubrir que manejar los horarios de todos y pasar tiempo juntos puede ser más complicado que mantenerse al día con el trabajo escolar!
---
Estimada CPI,
La vida de mi familia es agitada durante el año escolar, pero las vacaciones de verano tambiénson difíciles, de una manera diferente. Soy madre soltera y t rabajo a tiempo completo, por lo que mis hijos (de 5 y 9 años) tienen que estar en campamentos o cuidado de niño todos los días.
Desearía poder pasar más tiempo con ellos durante sus vacaciones de verano, pero acabo de conseguir un nuevo trabajo y todavía no puedo solicitar tiempo libre. A veces, nuestros horarios se sienten tan agitados y agotadores como durante el año escolar. ¿Qué consejos tiene para pasar el verano y divertirnos?
- Melanie
Estimada Melanie,
Muchos padres tienen el mismo dilema – los niños disfrutan de un descanso bienvenido del horario escolar, ¡pero los padres aun tienen que trabajar todos los días! Parece que usted ya sabe la importancia de organizar lugares seguros, interesantes y atractivos donde sus hijos pueden estar mientras que usted esté en el trabajo, lo cual es un gran punto de partida. Aqu hay algunos otros consejos para probar:
Concéntrese en formas sencillas de conectarse todos los días. Para muchas familias, el verano significa un descanso de la agitada rutina de la escuela, la tarea, los deportes u otras actividades después de las horas escolares. Esto a menudo crea más tiempo libre por la noche o los fines de semana, o puede facilitar que algunos niños se acuesten más tarde. Aproveche estas
oportunidades para pasar tiempo de calidad juntos y agregue variedad a sus rutinas diarias. Las ideas más sencillas suelen ser las mejores, como hacer un "picnic" en el suelo o al aire libre en lugar de comer en la mesa, o salir a caminar o jugar después de la cena en lugar de ver la televisión.
Planifique salidas en familia, aunque sean de unas pocas horas o en la ciudad donde viven. Haga una lista de deseos con sus hijos y anímelos a ser creativos sobre dónde y cómo pueden explorar algo nuevo juntos. De nuevo, las actividades sencillas y económicas suelen ser las que crean recuerdos felices que duran toda la vida. Visiten un museo local, vayan a un parque o a una playa en la que nunca hayan estado, asistan a conciertos o películas gratuitos al aire libre,prueben una nueva heladería o tienda de yogurt helado, o visiten la biblioteca o la librería local. Las posibilidades de crear recuerdos felices mientras fortalece las relaciones con sus hijos son infinitas.
Anime a sus hijos a desarrollar nuevas habilidades e intereses. Hable con sus hijos sobre lo que les interesa aprender o intentar, luego busque actividades en la comunidad o cosas que podrían hacer en casa. Manténgalo lo suficientemente sencillo para que sea divertido para sus hijos y realista para usted. Incluso enseñar a sus hijos a preparar algo además de cereal para el desayuno puede ser una experiencia de aprendizaje positiva y brindarles habilidades para toda la vida.
Mantenga una rutina. Aunque las rutinas de verano suelen ser más flexibles, mantener cierta consistencia hará que la vida sea más predecible y más fácil, especialmente con los horarios de trabajo, campamentos y cuidado de niños. También puede ayudar a sus hijos a dormir lo suficiente y tener una buena nutrición, enseñarles sobre el tiempo o darles algo que esperar, por ejemplo, ir a la biblioteca todos los jueves o llamar a un familiar todos los domingos. También ayudará a que todos regresen a la rutina escolar una vez que termine el verano.
Reflexiones finales: Lo bueno es que hay muchas maneras de ser padres positivos durante el verano que satisfacen las necesidades de nuestros hijos. Solo recuerde que no tiene que ser complicado ni costar nada para que sea efectivo, ¡manténgal pequeño y sencillo!